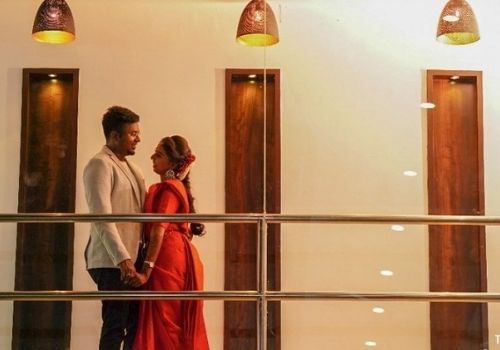 Wedding photography is considered the mastery level of fine arts when it comes to photography. However, pre-wedding shoots at the best marriage hall in ECR are like a celebration of a wedding and a contemporary approach to saving the most memorable memories. These shoots often get scheduled four to five months prior to the wedding and choosing the right wedding venue in Chennai is an important pre-planned task. 
So, here we have put together the 10 best destinations for your pre wedding shoot in Chennai which are handpicked by our team of experts at SAN Event Hall.
This stellar museum represents art and architecture through the most beautiful heritage houses which can be a royal backdrop for your pre-wedding photoshoot. If you and your loved ones are looking for an ethnic theme for your shoot, then DakshinaChitra's adorable Chettinad pillars and magnificent doors are just too good for it.
Mahabalipuram Shore Temple & Beach
Mahabalipuram temple and the beach have been considered the city's major tourist spot for ages. It is also an ideal location for any kind of couple photoshoots as it offers many fancy locations and spots for stunning backdrops. This is an ideal place to capture some epic portraits. 
Don't we all love some sun and sand for photoshoots? And Chennai boasts the prettiest beaches on East Coast Road with the best sun-kissed spots. Two of the most ideal photo-worthy locations are said to be VGP & Juhu Beach. Time to show off your white gowns, suits, and flowery dresses in serene waters and blue skies.
If you are someone who's looking for a cinematic couple photoshoot in an indoor location then Studio 24 is the right choice. They have 40+ different photoshoot sets across the city and is at present one of the trending couple photoshoot location in Chennai.
This eco-park is located right in the middle of Chetpet which is also quite scenic during the golden hours. With the lake as your backdrop, your photographer can also capture little ducks swimming along with a bamboo wooden fence that will give you major Ooty vibes in Chennai.
Rina's Venue is the best wedding venue in Chennai that symbolizes a traditional Chettinad house located in the heart of ECR. It is said to be one of the prettiest locations in town. Situated behind the ISKCON Temple on Akkarai, this place is definitely a lovely choice for a dreamy pre-wedding photo shoot.
Intercontinental Beach Resort
Situated along the majestic ECR, Intercontinental Chennai Mahabalipuram Resort embodies the true spirit of the historic Coromandel Coast. Tucked away between casuarina groves this serene Beach Resort provides a lavish area of 15000 sq feet of garden space with a private beach perfect for couple photoshoots.
Are you up for some vintage-themed photoshoots? Luz House located in Mylapore is the best choice. This stunning Dutch bungalow located in the heart of the city looks beautiful with its royal pillars and high ceilings. The historic furniture and mood lighting lends an old Madras vibe, creating the perfect atmosphere to capture some timeless pictures.
This breathtaking beach-facing location in Thiruvanmiyur has been built in such a way that photographers can capture the most perfect shots. This regal garden space adores itself with floral arrangements along with emerald green creepers. It also has an indoor space furnished with antique accents and a swimming pool for underwater photography.
The Napier Bridge is the city's most oldest and iconic bridge that is ideal for doing any kind of photoshoot. And when the broken bridge is lit in the night, it makes for an extraordinary location for pre-wedding shoots. The view from the bridge is breathtaking which can also be used as a backdrop to capture the sunrise in your photoshoot.
For an ideal photoshoot of your dreams be it pre-wedding or post-wedding, you can also consider the best marriage hall in ECR so that you and your loved ones can lock your fond memories through priceless moments.