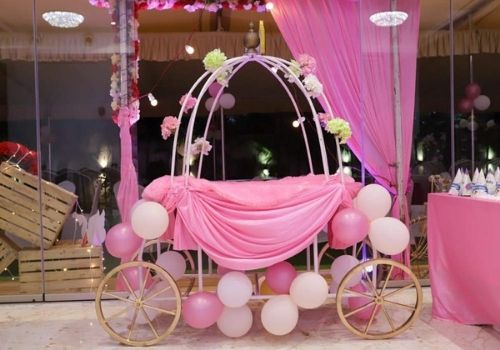 If you ask your little ones to suggest birthday party themes, then they will probably include whatever their favorite cartoon is —
And it might not be their favorite by the time you actually plan and celebrate their bash. So instead of depending upon their ever-changing tastes, you and your relatives too can plan it according to their taste buds. 
As the best birthday party hall in Chennai, we have collated a list of fun-filled food-centric kids' birthday party themes that children of all ages will love especially by adding recipe ideas that go way beyond just a regular cake.
You and your kids can kickstart this food-theme party when you make a standard triangle cutout into colorful and indulging pizza slices. It's easy to do if you have some construction paper circles to make pepperoni and other toppings. For the food, you can also create Happy-Face Pizzas with pepperoni, or make various cutouts by adding decorations of Traditional Pizza Sauce, mushrooms, bell peppers, sausage, and multiple kinds of cheeses. Try decorating a birthday cake like a pizza, or make a fruit pizza using pineapple.
Give your kids and their friend's somethin' to taco 'bout! What about a taco bar? One of our most loved recipes is the Walking Taco Bar which includes taco toppings inside a bag of corn chips that even the kids can eat while they are playing. We are the best birthday party hall in Chennai that can have all sorts of themed birthdays without creating any mess. You can also get a delicious piñata, make a big bowl of Guacamole or seven-layer dip, and add a game where the kids will have fun rolling themselves like burritos using blankets.
If you want to start the celebrations a bit early then consider a birthday party hall in Chennai that will make a pancake-themed party! All you would require is a big electric griddle and tiny squeeze bottles to let kids make their favorite shapes. You can also get your favorite cookie cutters so that it's for the kids to bake them. Another option would be to make little headbands with yellow squares which they can wear and look as though they have pats of butter on their heads.
Who says cookie decorating is meant only for the holidays? Take out a big batch of sugar cookie dough and let your kids pick their favorite cookie shapes. It could be really amazing to make actual cookie monsters using different colors and shapes of frosting that they later even eat. You can also give everyone a tin of cookies that they can bring home, and give a Christmas vibe to the party.
Popcorn is comfort food that is loved by people of all ages, right from the little ones to the adults. It's one such food that in no time gets empty and you are left wanting for more. Make various cutouts to add to the popcorn box used in theatres that will look sensational and fun to create a cinematic ambiance. You can add real popcorn to your box as well but make sure it's not flavored as it can get stuck to the cutout.
Try the best birthday party hall in Chennai to make an exciting and memorable themed celebration for your child. You can get all the help you want starting from planning to implementation only at our prestigious SAN Event Hall.