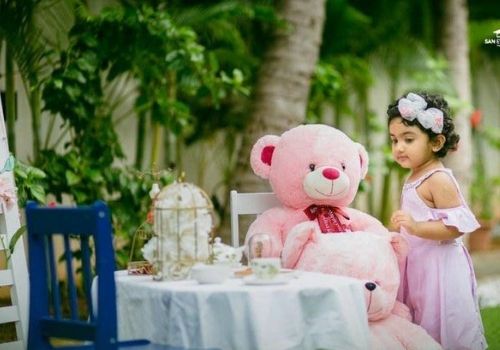 We all are aware that birthday parties have become yet another opportunity to keep up with those Pinterest-perfect images for your Instagram and Facebook feeds. Huge balloon centerpieces, themed cakes, character impersonators, video game arcades on wheels, and even a dress code. It's actually safe to say that things have gotten out of hand. If you don't plan properly, you can spend a lot of money and end up with a not-so-great party.
As a parent, you would want to throw your child the best time of his/her childhood without burning a hole in your pocket. As a premium birthday party hall in Chennai, you need not look further as we make sure that such fun celebrations don't need to cost a lot. So we have put together the best tips and tricks for sticking to a budget at your child's next birthday party.
Make sure your guest list is small:
There's no rule that says that you have to invite your kid's entire class, football team, or even all the park playground buddies to their birthday party. Let's admit it might sound like a welcoming thought but it's not realistic enough to be planned out. Try to limit your guest list to under 20 kids to avoid any hassle during the celebration. Don't forget, you'll probably have parents and teachers sticking around too which is likely to impact your food and cake budget.
Send out your own digital invitations:
We live in a digital world, so don't back off from taking advantage of it! Your kid's birthday isn't their wedding day, so don't spend a lot on printed and glossy invitations. Instead, try to make your own digital invites online and send them out via email or text. Plan and conduct it at the best birthday party hall in Chennai to make it the most memorable day for your kid and make them feel pampered.
Use free printables to decorate:
There is good news: Pinterest exists! You need not visit a local party store to stock up on birthday decorations. You can find plenty of free printables that are easily available online. Yes, you've heard it right. It's all free and all over the Internet.  So set aside some time for yourself, grab a cup of coffee and browse through the internet to pick a printable you like to send out invites to.
Choose a theme you have decorations for:
Most of the fun in throwing a birthday party is picking out an appropriate and fun theme in order to watch it play out. But remember, just because your child wants a fairytale-themed party doesn't mean you have to buy all the props required from it from special stores. Either use whatever you have or start making some beautiful cut-outs and use them as props with the help of DIY youtube videos online.
Don't forget to compare venue prices:
If you are not in the mood for hosting a party at your home, it can be more cost-effective and efficient to let the best birthday party hall in Chennai do all the work. Keep in mind that prices can vary significantly from place to place. Rest assured, we offer an affordable and beautiful venue with all decor, music, parking, and food so that your kid's birthday party stands out in his/her mind during those priceless moments.
That's how to plan for a budget-friendly birthday party for your kid without spending chunks and chunks of money. At SAN Event hall, we are waiting for you and your child to offer the best birthday ever. Consult with our event planners at +91- 99621 11394 and we'll be happy to assist you.