Are you in Search for Best Baby Shower Halls in Chennai!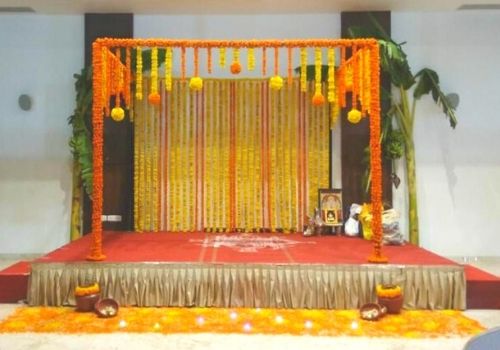 In our Baby shower Hall in Chennai: For every woman, the Baby shower is a lifetime experience. It's the first step of celebration towards the unborn baby, during which loved ones (mainly women) come to wish her well in her new life while showering her with presents!

On the same note, A baby shower is a lovely way to shower the expecting mother and her unborn child with blessings. It is said to keep the stink eye away from the mother and child. 
A baby shower is a gathering of close relatives and friends hosted by the parents-to-be of a newborn child to shower their soon-to-be parents with presents for their boy or girl.
As a result, picking on a baby shower event site is critical work to do since it entails a number of factors that must be in line with the pregnant lady's taste and preferences. During pregnancy, a woman requires a comfortable and safe atmosphere like home and touchwood because we create it for you.
A baby shower function or seemantham (in Tamil) should be planned months in advance, just like any other special event, to ensure that the preferred date is accessible. Because baby shower halls in Chennai fill up months in advance, it's crucial to plan ahead and estimate the number of people expected to attend so that you can select the comfiest location that's right for your guest's size.

In this instance, your search comes to a close at The SAN Event Hall, a well-known event hall in ECR, Chennai that provides the greatest amenities for a baby shower. Arranged professionals will plan the party for you just how you want it for your woman, taking into account even the smallest details you specify.
It takes a lot of effort to organize baby shower functions in event halls. SAN Event Hall for seemantham has compiled a list of helpful hints to help you start arranging the ideal baby shower. A baby shower for the pregnant mother can be planned by anybody. In today's world, this includes family, friends, and even spouses. Because most showers take place in the last months of pregnancy, this is beneficial to the expecting mother.
Figuring out some suggestions on how to throw the best baby shower halls in Chennai ever.
Date & Baby Shower Venue: The first and most crucial step is to select whether you want the baby shower to be grandiose or modest. A good venue is one that can give you the most products for the right amount of money.
Baby Shower Theme & Invites: Be imaginative and go outside the box when putting up a theme; who says you have to stick to a blue or pink theme? Why not employ a background that serves as the centerpiece of the setup? This may also be used as a photo booth backdrop. Place it in a readily accessible location within the SAN Event Hall's open lawn or inside, so your guests will see it as soon as they enter the main space.
Baby Shower Décor: Our Event Hall inspires you to execute much of your relatable themed decors. It might just exactly match the theme. Namely of open lawn greenery like a wild baby shower, hints of gold décor, golden-toned, neutral baby colors décor, Baby Shower with modern details and home adoption party, and much more.
Food & Drink for a Baby Shower: The sort of meals you choose for your baby shower is determined by the style of catering you desire (canapés, buffet, light snacks, etc…). Before choosing the food for your baby shower, make sure you start your research early and ask around for advice. As the cake is normally positioned in front of the main background wall, play around with the design to complement the theme.
Baby shower Games and Gifts: When your guests engage in an interactive activity during the event, it becomes even more memorable for them and for you. Prepare some unusual activities in advance that revolve around the baby and the soon-to-be parents (guessing games or races & challenges)
Also, know what most customers love about us: Client Reviews
Enjoy your baby shower, and no matter what you do, don't forget to conclude it on a heartfelt note to your family, guests, and friends.
It's your turn to make a decision. We will arrange and ensure your availability.

Check Availability Now: Click Here!