Are you in Search for Best Baby Shower Halls in Chennai!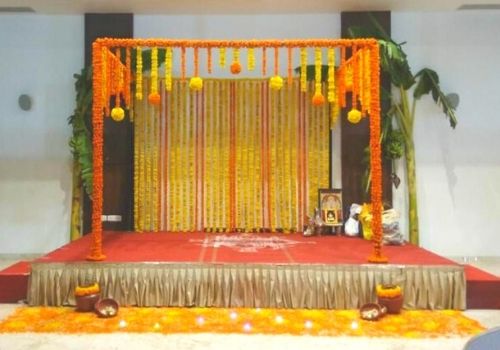 You want to make the most memorable celebration of your child's arrival as you start this wonderful adventure of becoming parents. A baby shower is a lovely way to be close to loved ones, celebrate the impending arrival, and make lifelong memories.
At SAN Event Baby shower hall, we understand the significance of this joyous occasion and are committed to providing you with the perfect setting for your baby shower celebration. We can accommodate a broad variety of guest lists and preferences at our event hall, so your celebration will be just as special and unforgettable as the birth of your child.
Mix of Modern and Traditional Ambience: We offer a wide open green lawn and spacious hall, each with its own unique charm and ambiance. Whether you like a classic and sophisticated view or a more playful and whimsical atmosphere, we have the perfect event hall to suit your taste.
Customized Décor: Our experienced event designers will work closely with you to create personalized décor that reflects your baby's theme and your personal style. We'll make your idea a reality, from backdrops and flower arrangements to table sets and centerpieces.
Entertainment Options: We can provide a variety of entertainment options to keep your guests entertained throughout your baby shower. We can work with you to arrange for DJs, live music, performers, or other forms of entertainment that suit your theme and preferences.
Child-Friendly Amenities: We offer a variety of child-friendly amenities to ensure that your little guests have a fun and safe time at your baby shower. We have dedicated play areas with toys and games, as well as high chairs and booster seats for younger guests.
Delicious Catering: Our expert chefs or your decided caterer will create a menu tailored to your preferences, ensuring that your guests are delighted with an array of culinary delights. Whether you prefer a sit-down dinner, a cocktail reception, or a dessert buffet, we can accommodate any request.
Dedicated Event Coordinator: Our dedicated event coordinators will be with you every step of the way, from planning and coordination to execution and cleanup. Our Event Coordinator will handle all the minute details, allowing you to relax and enjoy.
Experience the Baby shower hall in Chennai Difference:

Unwavering Commitment to Excellence: Our team of event planners, catering experts, and venue managers possesses extensive experience in crafting exceptional baby shower events. Exceptional Customer Service: We prioritize our clients' needs and strive to exceed expectations, ensuring every detail is meticulously addressed. Comprehensive Event Planning Assistance: Our team guides you through every aspect of planning, from initial concept development to final execution. A Reputation for Excellence: Our reputation precedes us, as we are consistently recommended by satisfied clients and industry professionals.
Here are some additional reasons why our banquet halls are perfect for baby showers:
Safe and secure environment: Our banquet halls are located in safe and secure neighborhoods, providing peace of mind for parents and guests.
Ample parking: We offer ample parking for your guests, ensuring that they can easily find a spot to park and attend your celebration.
Accessibility: Our banquet halls are accessible to guests with disabilities, including ramps, elevators, and accessible restrooms.
Affordable pricing: We offer a variety of pricing options to suit different budgets, ensuring that you can find the perfect venue for your baby shower without breaking the bank.
Color Schemes: Choose a color palette that reflects the theme of your baby shower, whether it's soft pastels for a girl, bold blues for a boy, or a gender-neutral theme.
Table Settings: Elevate your tables with personalized tablecloths, runners, centerpieces, and place settings that complement your décor.
Lighting: Create a warm and inviting atmosphere with soft ambient lighting, accent lighting to highlight décor elements, or uplighting to enhance the space.
Floral Arrangements: Add a touch of elegance and fragrance with fresh floral arrangements that match your chosen theme and color scheme.
Backdrops: Create a stunning backdrop for photos or a special message by incorporating a personalized banner, backdrop wall, or balloon arch.
Contact Us: Your Gateway to an Exceptional Baby Shower in Chennai
Phone: 99621 11394 & 83001 61234
Email: info@saneventhall.com
Contact Form: https://saneventhall.com/