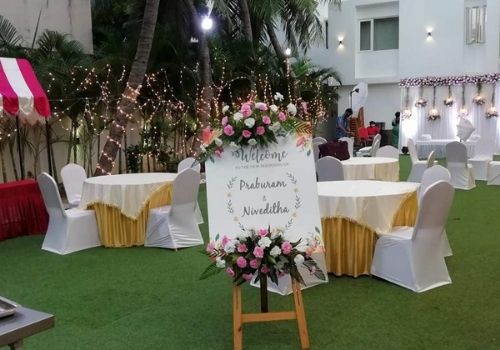 We all know that Indian weddings are widely known for their grandeur,fun, rich cultural traditions and nuances. As the years pass by, new trends have propped up in the wedding industry and have transformed the way couples and families plan and celebrate their special day; one they will remember for a long time to come. 
One of the most important parts of a successful Indian wedding is thevenue, which is also called a wedding hall. If you are looking for a wedding hall for your grand event, you have come to the right place, but before we tell you about the best wedding hall in Chennai, let's look at some of the latest wedding hall trends and inspirations that you can stay up-to-date with and get inspired to plan your dream occasion.
Mix-n-match traditional and modern decor
One of the latest trends in terms of wedding halls in Chennai is mixing up the old and the new. Fusing traditional and contemporary decor elements is the in thing now. Couples inclined to this type of look are looking for wedding halls that can provide them with these features to give their wedding a unique look. Aesthetic traditional motifs, vibrant colours and backdrops, grand decorations all around can be infused withvmodern designs to achieve this to bring out that touch of sophistication into the celebrations through the wedding hall.
Destination or outdoor celebrations
Destination weddings have been the trend for a long time now. These are popular with couples looking for picturesque and out-of-the box unique weddings that can be the talk of the town. From lush green gardens, beach side resorts, to wedding halls in Chennai offering stunning backdrops are all the rage today. Couples choosing these
places are also looking to provide an immersive experience to their guests as well.
Personalization has entered the wedding world too. To create a memorable experience for their guests, couples are focusing on adding personalized and interactive elements to their wedding halls. Thisvincludes interactive and live food stations, fun photo booths, and entertainment that guests can participate in. These are just a few examples of how couples are engaging their guests on their big day. Couples are also bringing in personalization in every aspect of the wedding from customized decor elements, adding monograms to the invites & decor around the wedding hall. Bringing in personalized and interactive elements makes sure that guests are engaged throughout the wedding celebrations and have a great time.
Integration of technology
We can't just ignore technology in today's day and age and this is evident in wedding celebrations too. Indian weddings are embracing the latest and the most innovative technological advancements such as LED screens, projection mapping & screening, colourful decorations and holographic displays to enhance the visual impact of the wedding hall. For relatives and friends who are unable to attend the wedding, couples are making use of live streaming services to showcase the wedding in real time to celebrate with near and dear ones who are away.
Eco-friendly and the use of sustainability
This trend is also gaining popularity in Indian weddings and couples are incorporating sustainability into their celebrations. Eco-friendly wedding halls, complete with recyclable materials being used for decor, energy efficient lighting, locally sourced flowers and materials for decoration, and for food are just some of the elements that are part of the wedding. By making these choices and simple changes to their wedding, couples avoid wastage and make their special day memorable and conscious.
With these trends making the waves in Indian weddings, you can get inspired by these ideas and make the day yours by incorporating your likes and interests too. It's your big day, so make it special! If you are looking for a wedding hall in Chennai that can accommodate all your ideas and make it a grand occasion for you and your guests, check out SAN Event Hall, located at Kottivakkam. Get in touch with us at +91 99621 11394 today to check out the wedding hall, a spacious venue, with air conditioned indoors and beautifully lawned outdoors to make
your dream wedding a reality. When are you giving us a call?!