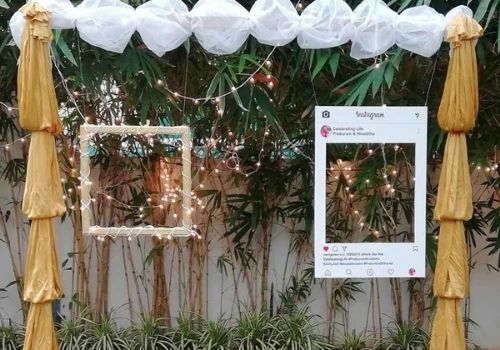 Technology has become a part of our daily lives today. It has also entered the wedding world and its role has significantly increased in enhancing marriage experiences. From e-invites, live streaming of the events, drone photography and more, technology has revolutionised weddings! The same goes for conducting a wedding at the best marriage hall in Chennai – SAN Event Hall. Let's explore how you can use technology to conduct your wedding at this venue.
Earlier, we would get traditional paper invites via post. But today, emails and amazing-looking e-inviteshave taken over. These are environmentally friendly, are cost effective and come in thousands of customisable designs. Couples can make these invites by choosing the colour, font as designs to their liking. These can be sent via email, through group chats, via digital platforms and more. E-invites allows couples to track the RSVPs with ease.
Interactive display options
These have become one of the latest trends at weddings. Interactive displays are being used in many ways like showcasing the couple's photographs, fun videos, for displaying information, showing the menu etc in a very creative way. They can be customised to fit the theme of the wedding. At SAN Event Hall, you can make use of these interactive displays to take your event to the next level.
Not all of your guest list will be able to come to the wedding due to various reasons and last minute changes. COVID-19 has also played a huge role in making live streaming options a common theme at weddings and events. Live stream your wedding and the different ceremonies happening at the best wedding hall in Chennai and make your friends and relatives be a part of the celebrations in case they are unable to travel to attend your big day.
AR-Augmented Reality and VR - Virtual Reality
To keep up with technology, why don't you try Augmented Reality (AR) and Virtual Reality (VR) at your wedding. These are two technologies that can enhance your wedding experience in many ways. AR can be used to provide the wedding guests with unique and trendy experiences such as virtual photo booths, while VR can be used to provide guests with a virtual tour of the wedding venue even before arriving at the wedding venue. Make the occasion a memorable experience for all.
Drone photography and videography
Wedding photographers today love to use drones to shoot their footages. They can capture surreal images and get a birds eye view of the happenings like the engagement, wedding and reception ceremonies. If you're planning for one at your wedding, unbelievable views await you at the best wedding hall in Chennai that is SAN Event Hall.
Colourful and smart lighting
Enhance the ambience of your wedding venue with the help of smart lighting. You can create different moods according to the theme and bring in soft or bright tones to match the decor. We at SAN Event Hall, have the best marriage hall for you to enhance the event.
Bring in a bit of technology into your wedding celebrations to take it to the next level. From drone photography, AR & VR options to smart lighting, there are many things for you! Combine the best wedding hall in Chennai with technological advancements for a memorable event! Are you ready?