Everything You Need To Know About Best Engagement Hall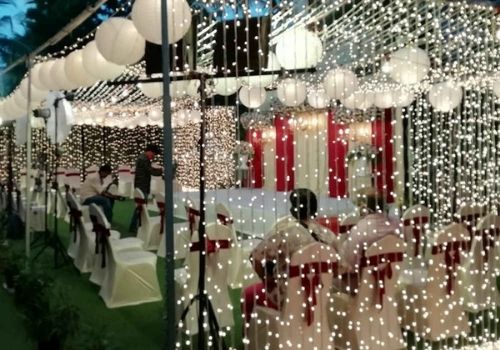 In a world of fleeting moments, an engagement ceremony stands as a beacon of enduring love, a promise of a shared future, and a testament to the power of two hearts entwined. 
At SAN Event Engagement Hall, we understand the profound significance of this momentous occasion. We believe that the venue where you celebrate your engagement should be more than just a space; it should be an embodiment of the love and commitment you share.
Our elegantly appointed Engagement hall in Chennai is not merely rooms; they are canvases upon which the dreams of a lifetime are painted. We transform these spaces into a symphony of love, where every detail, from the shimmering lights to the exquisite décor, reflects the unique essence of your relationship.
As you step into SAN Event Hall, you'll be enveloped by an ambiance of warmth and sophistication, a setting that perfectly complements the momentous occasion you're about to celebrate. We invite you to embark on a journey of love and celebration with us. Let us transform your engagement dreams into a reality that will forever be etched in your hearts and memories.
Embrace the Enchantment of SAN Event Hall: Your Gateway to an Unforgettable Engagement Celebration
Nestled near the ECR, Chennai stands as a testament to timeless elegance and modern sophistication, a haven where love's purest moments are transformed into unforgettable memories. Our Engagement hall is more than just a venue; it's an embodiment of romance and commitment, a stage where an open green lawn and a spacious two hearts intertwine to embark on a journey of shared dreams and lifelong happiness. 
A Symphony of SAN Event Engagement Hall, you'll be captivated by an ambiance of refined luxury and breathtaking design. Our spacious open green lawn engagement hall in Chennai, adorned with soaring ceilings and intricate chandeliers, provides a grand setting for your engagement celebration.
Your Engagement Dreams, Our Passion
 At SAN Event Engagement Hall in Chennai, we understand that your engagement ceremony is a once-in-a-lifetime occasion, and we are honored to be a part of making it truly unforgettable.  Every couple is different, and your engagement celebration should represent your personalities and preferences. We are committed to providing you with the flexibility and creativity to personalize your engagement celebration to the smallest detail. 
Our team of experts is here to guide you through every step of the process, from selecting the perfect décor to coordinating catering and entertainment.
Unveiling a Canvas of Exquisite Décors
Our team of experienced event designers takes pride in crafting personalized décors that reflect the unique essence of your relationship. From classic and romantic to modern and contemporary, we can transform your vision into a reality, ensuring that your engagement ceremony is a true reflection of your love story.
Seating Arrangements: Tailored to Your Celebration
We offer a variety of seating arrangements to accommodate your guest list and create the desired ambiance for your engagement celebration. From traditional buffet-style seating to intimate round tables, we can create a layout that suits your preferences and ensures that your guests feel comfortable and engaged throughout the event.
Culinary Delights to Tantalize the Taste Buds
Complementing the elegance of our surroundings is a culinary experience that will tantalize your taste buds. Our expert chefs will create a personalized menu tailored to your preferences, ensuring that your engagement celebration is not just a visual delight but also a gastronomical journey to remember.
Themes: Setting the Stage for Love's Story
Whether you envision a classic and romantic atmosphere or a modern and contemporary affair, our versatile wedding hall can be transformed to perfectly match your vision. We can incorporate your chosen theme into every aspect of the décor, from the lighting and floral arrangements to the table settings and linens.
A Commitment to Unparalleled Service
Our dedicated team is committed to providing you with exceptional service, ensuring that every detail of your engagement ceremony is meticulously planned and executed. We're here to guide you through every step of the process, from choosing the perfect decor to coordinating dining and entertainment.
Your Engagement Celebration: Pricing and Packages
In wedding halls, Chennai – we believe that every engagement ceremony deserves to be celebrated in style, regardless of your budget. That's why we offer a variety of prices and packages to suit your individual needs and preferences. The flexibility to choose the most important services and amenities. We offer an hourly rate for our SAN Event Engagement Hall space, as well as a variety of all-inclusive packages that include dining, decor and other essentials for your engagement party.
Witness some of our client testimonials
"From the moment we stepped into SAN Event, we knew we had found the perfect venue for our engagement ceremony. The staff was friendly, and the space itself was stunning. We couldn't have asked for a more perfect setting for our special day." – Pradeep
"It's a Good Hall with Great Ambience. It has a lawn-type arrangement as well at the side." – Arun Kumar V
"Nice party hall for events birthday functions and small functions
are valuable in this hall." – Hyder Ali
Contact us today to schedule a tour and discover how SAN Event Hall can transform your engagement dreams into a reality.
 99621 11394 & 83001 61234 | 
info@saneventhall.com