Everything You Need To Know About Best Engagement Hall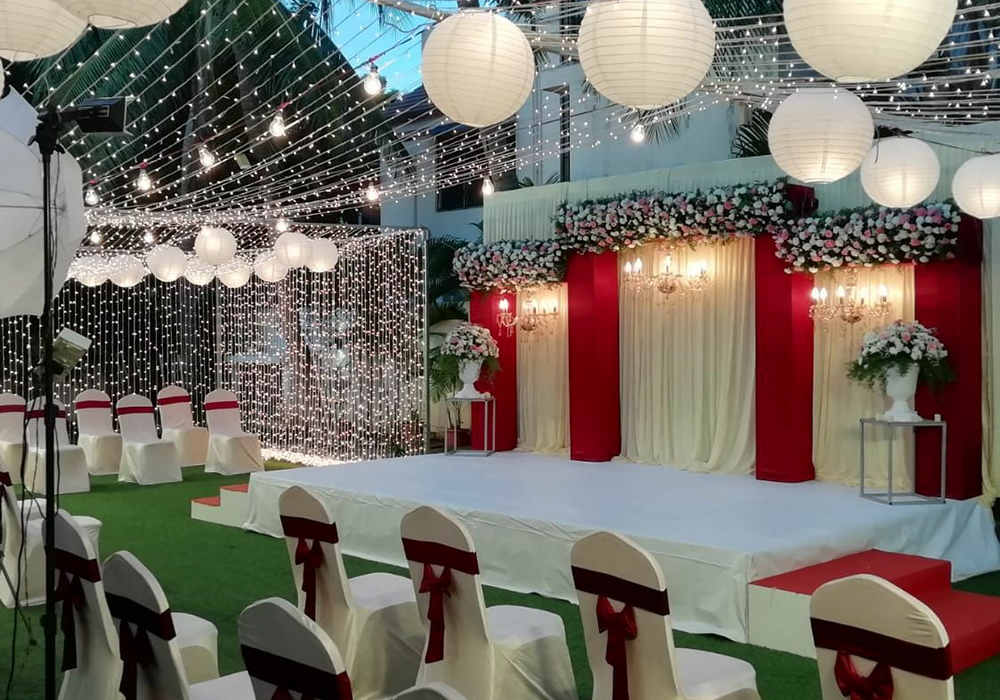 At SAN Events, you enjoy a top-of-line unforgettable event experience all the while staying just minutes away from the beach. Our engagement hall is made and specially curated to stun your guests with an enriching and captivating ambiance. Chennai weddings are known for their subtlety and grace. When you tie the knot, the venue needs to reflect the elegance of your wedding. To search for the best, you need not go anywhere else but land at the best engagement hall in ECR, Chennai. Whether you are coming with your friends and family or as a part of a business delegation, you can be assured of a top-notch hospitality experience from SAN Events. The guests are sure to have a rocking time at the ceremony and return with nostalgic memories that will last for long after they attend the event. The engagement venue is ideal for holding a simple as well as a grand affair making sure your experiences are unique in every respect. Our services go far above and beyond the conventional method and can be customized as per your demands, taste, and budget.
The beautiful marriage hall is probably the most affordable Kalyana mandapams in Chennai with a decent strength of holding 500 guests. Add a magical spark to your engagement, wedding or any special occasion by contacting the most trusted party halls in Chennai. We have successfully organized hundreds of events without any hassle. Our services are based on making your experiences unforgettable. When you walk into SAN Event Hall, you will be awestruck by the ambiance our glass door equipped event hall comprises. Starting from food, atmosphere to hospitality and management, SAN Event is known as the best engagement hall in Chennai. The staff here makes sure that all the events are executed effectively and that your guests have a time worth remembering. Get mesmerized by the soothing atmosphere of the sea encapsulating the entire event hall. Come fall in love with events all over again.
Top Reasons That Make Us the Best Engagement Hall In Chennai
Air-conditioned Banquet Hall
Events can always be tiring but with our centrally equipped air-conditioned hall, you don't need to break a sweat. It is an elegant and simple event hall with a team of professional experts efficiently handling your corporate events as well as your intimate weddings. Happy ceremony to you and your loved ones!
Spectacular garden
Our services and hospitality go far beyond the conventional measures customizable according to your budget, needs, and demands. With a beautifully decorated garden hall having numerous plants, your guests will get lost in the ambiance. They are sure to speak high about the luscious greenery that surrounds the glass doors. A lovely walk awaits you in our garden.
Soothing sea ambiance
Words will never fully describe the extraordinary beauty of the sea right? The ambiance is gala but the feel of the atmosphere will seem relaxing and enriching. Immerse yourself in intimate occasions of life with our cozy interiors and picturesque exteriors surrounded by stellar sea soothing ambiance.
Well-maintained kitchen
We provide a fully equipped modern kitchen that comes with the facilities required to make delicious food for your guests. You can even bring in your food caterers where we provide ample space for them to do the cooking for your guests without any trouble. An enriching atmosphere with lip-smacking food at an event. What more can you expect?
Hassle-free parking services
Our parking services are always prompt and we make sure you enjoy the event without any worries. We take proper care of your vehicles during the event. Don't believe us? Book the best engagement hall in Chennai for an unforgettable experience and witness it yourself.