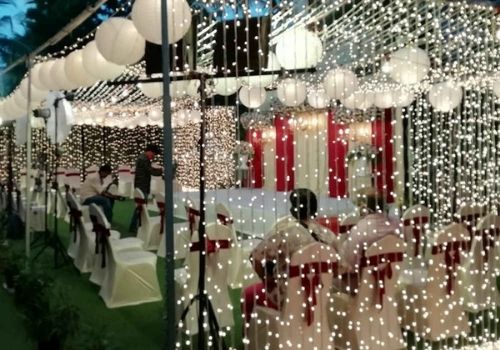 Decor at a wedding is not just a thoughtfully put-together colour scheme and carefully arranged flowers; it's said to be the theme that creates and sets the stage for any event. Your wedding decorations especially when done at one of the best Kalyana Mandapams In Chennai will literally help you in making your wedding stand out like no other.
This is especially true when it comes to wedding decors, as this is definitely one particular part where you'll want to put a lot of focus while you're planning your wedding. Wedding decorations are considered as one of the most noticeable attractions of any event. We have put together simple decor ideas that you can keep in mind while planning for your wedding.
Hues of Rain – A very subtle yet minimal example of monsoon decor is incorporating hues of blue and green in the theme. This will bring out the colour essence of the season and make your decor dreamy and in trend too. Blue represents water and green represents mother earth, so you can use delicate motifs for a texturally rich background. 
Vibrant with Vibgyor – You can also finalise on using ribbons of all colours which can make a vibrant canopy. To lend more simplicity to the decor bring out the beauty of colours by using LED lights. But if it's an evening wedding then add some flowers to capture the whole decor in its best form. 
Paper Boats and Raindrops – Place your wedding at one of the best Kalyanam Mandapams in Chennai for a colourful backdrop of ornamental paper boats and bright raindrops to depict monsoon. You can also add a peacock-themed couch/seat/throne exclusively for the bride and groom against the stunning backdrop.
Floral Umbrellas – Monsoon season is said to be incomplete without the presence of vibrant umbrellas. Why not add them to give your wedding the accurate and perfect theme of the season? The best Marriage hall in ECR like ours can hire wedding decorators to create strings of tuberose that will lend the perfect visual for falling raindrops.
Transparent Wedding Decor – To give your wedding a more intimate vibe, you can also add a clear, transparent tent that looks like an outdoor wedding set-up.  Such tents provide you with the feeling of having a wedding outdoors while keeping you dry and safe during the monsoon too. 
Grand Theme Peacocks – To give your monsoon wedding a soothing vibe of the monsoon season, remember to add some flower-crafted peacocks of different sizes in order to make your themed décor look majestic. Such peacock decor can be made using some exotic flowers and vibrant stain-silk cloth.
Fresh Drape Arrangements – Draped decor can make your wedding look extremely colourful and bright. Add in fabricated drapes with sheer textiles like chiffon, georgette or organza and your wedding will look gorgeous and comfortable at the same time.
Low-Power Wattage Lights – One of the best marriage halls in ECR has generator backup to provide you with stunning low-power lights decor. Using fairy lights might be a good option for decorating your wedding or even conducting your reception. For your outdoor wedding set-up, you can also take the help of a tree house to hang magical fairy lights.
Add Parasol Props – Last but not least is adding some parasol props to make your wedding look magical and straight out of a fairytale. These are unique props that will allow you to conduct all necessary rituals during the rainy season.
Whatever maybe the idea of your decor arrangement or theme, you can conduct it with ease at one of the best Kalyana Mandapams in Chennai. We have the best facilities with amiable staff and can hire exclusive wedding decorators who are prompt enough to make your big day look worthwhile.